Ft. Lauderdale has great diving. It's Caribbean diving right here in the U.S! Just looking to do some shore diving? Head over to Commercial Blvd in Lauderdale-by-the-Sea or Dania Beach. The reef is only about 100 yards off shore. You can tell where it is by the color change of the water.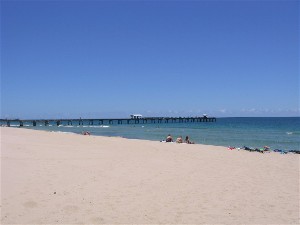 Depth ranges from 15-25 feet, which allows lots of bottom time. And there's a lot to see! During our dives there, we saw eels, rays, puffers, angel fish the size of dinner plates, lobster, sea stars, and dozens of other fish types. We saw hundreds of fish on each dive. We even had a small school of fish following us around like you often see fish tagging along with bigger fish.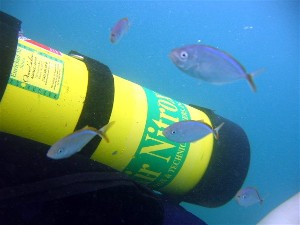 You must have a dive flag when diving these areas, so make sure you bring one with a reel. There are also some restrictions on where you can dive. At Commercial Blvd you must stay at least 100 yards from the pier when it's open. You have to enter in front of this building.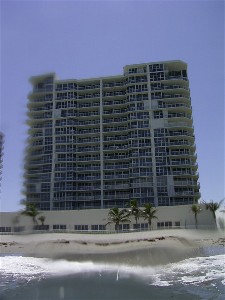 Commercial Blvd has metered parking, so bring lots of quarters. Dania Beach has a parking lot in the Adler Park. A few bucks gets you several hours of parking right next to the beach. Both of these beaches also have showers to rinse gear and yourself after the dive. Don't miss out on this great diving opportunity right here in the U.S.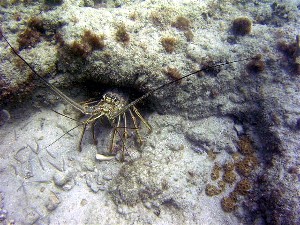 ---
We also did some boat dives while there. We dove the Spiegal Grove, of course. However, the experience wasn't that great. We pulled up to the site and it was busier than Wal-mart on a Saturday morning. There were more boats moored to the wreck than I've ever seen. So some advice – book a mid-week afternoon dive on the Spiegal. Just make sure you haven't done any dives that morning since this is on the deeper side of recreational limits. Some of the charters in Key Largo will let you do this. You just need to call around. Make sure you're prepared for this dive. The current is ripping most of the time. We had to pull ourselves down the mooring line hand over hand just to get to the wreck. Once to the wreck we were able to shield ourselves from the current with the structure. On ascent, we had to hold on tight to the line. During the stop we were dragged about 8 feet up the line by the current. This was with both hands gripping the line and one leg wrapped around it (the line was at about a 40 degree angle)!
We also dove off of Ft. Lauderdale. Conditions weren't the best that day, but the boat we went out on was great. We changed sites and did a couple of great drift dives while they followed along. We had some more great photos ops! And there were only three of us on the boat. We already stated that we don't usually promote other businesses here, but this one is another one worth mention. We dove the American Dream II. This boat is huge. It can carry close to 30 divers. Only 3 divers were booked and they went out anyway! I've heard of them going out with only 1 diver as well. You know they're not making any money on that trip. But they're here to dive, too. So if you want a great experience, give them a call!