ROB NETO – AUTHOR
Rob Neto is known around the world for his expertise as a cave explorer and sidemount diver. In 2015 he released the 1st edition of the Sidemount Diving book, the first almost comprehensive guide to sidemount diving and all that is involved. This edition covered various configurations, sidemount systems, how to choose what works best for you, the skills necessary to learn and sidemount, and much, much more. It included over 120 pages of information including instructions on popular methods and modifications along with photos.
Five years later the long awaited 2nd edition is now available! The 2nd edition delves even deeper into the subject. Authored by Rob Neto, cave diver & explorer, with over 15 years of experience diving sidemount all over the world in various conditions and using different sidemount rigs, this book covers several configurations, sidemount systems, how to choose what works best for you, the skills necessary to learn and dive sidemount, and step by step instructions on how to build your own harness! Almost 300 pages of information including hundreds of photographs, many by the world-renowned photographer, Laurent Miroult.
This book can be used by divers interested in beginning their venture into sidemount as well as the experienced sidemount diver. It's also a great supplement for instructors to incorporate into their sidemount classes.
Sidemount Diving The Almost Comprehensive Guide has been called "one of the best and most comprehensive books on sidemount diving" by InDepth Magazine.
To purchase a copy of Sidemount Diving The Almost Comprehensive Guide in English, Dutch, German, or Spanish please visit
Rob has also delved into the world of fiction thrillers, with his first novel, Beyond the Grate, was released July 18, 2023! Orders are shipping! For more information on Beyond the Grate and to order a copy please visit
Please take a moment to also visit Rob's author website to learn more about Rob and the projects he is currently working on. You can also purchase all of his books from this website.
---
THE CUTTER CASE

Chipola Divers was the first distributor for The Cutter Case in the US when it was first released and the first to offer it when it was re-released in 2022!
The Cutter Case was engineered to precisely fit the EezyCut Trilobite line-cutting tool securely, while providing easy access to it.

This case is an innovative, two-piece design that allows deployment or stowage quickly with a single hand. When secured with the included elastic cord, it may be mounted horizontally or vertically to the user's harness, a computer strap, or any other location the individual desires.

The case is available in black, blue, orange, or pink, and sold individually (case only). Currently, BLACK and ORANGE are available. We should also have BLUE and YELLOW in stock soon. If you would order blue or yellow, please be aware there will be a delay in shipping. If there are enough orders placed we can get other colors in. If you are interested in any other color please send an email to chipoladivers@gmail.com to let us know.

To make a purchase either scan the QR code below or click on the Buy now link. Please note that not all colors are available at this time. Make sure to send and email to chipoladivers@gmail.com to let us know which color(s) you would like in your order.

Free shipping to US locations on all orders of 3 or more Cutter Cases or any Cutter Case purchased with the Sidemount Diving book.
---

Cutter Case
$25.00

Buy now
Sidemount Diving Book plus a Cutter Case
$90.00

Buy now
---
---
WHO WE DIVE WITH

If you are planning a trip to Cozumel we highly recommend COZUMEL ABYSS DIVERS. They are a family owned and operated business based whose focus is private guiding as well as SCUBA instruction across various levels, including tec diving. Whether you are a Course Director just looking for a local guide, an Advanced Open Water diver looking to further your knowledge, or even if you have never been diving before and are looking to splash the surface, give them a shout! Their ultimate goal is to provide the highest quality service both above and below water!​
---
---

If you are planning a trip to dive the caves of Southern France we highly recommend THE CAVE TO BE located in Gramat. Located in the center of Quercy / Lot, the number one cave diving destination in Europe (and the 3rd in the world). In their school you will be able to follow all types of training courses towards this fascinating world … The Cave To Be is the only local all year round open cave diving school and facility in France. Their school is exclusively dedicated to cave diving and that is the main professional activity of their instructors.
---
---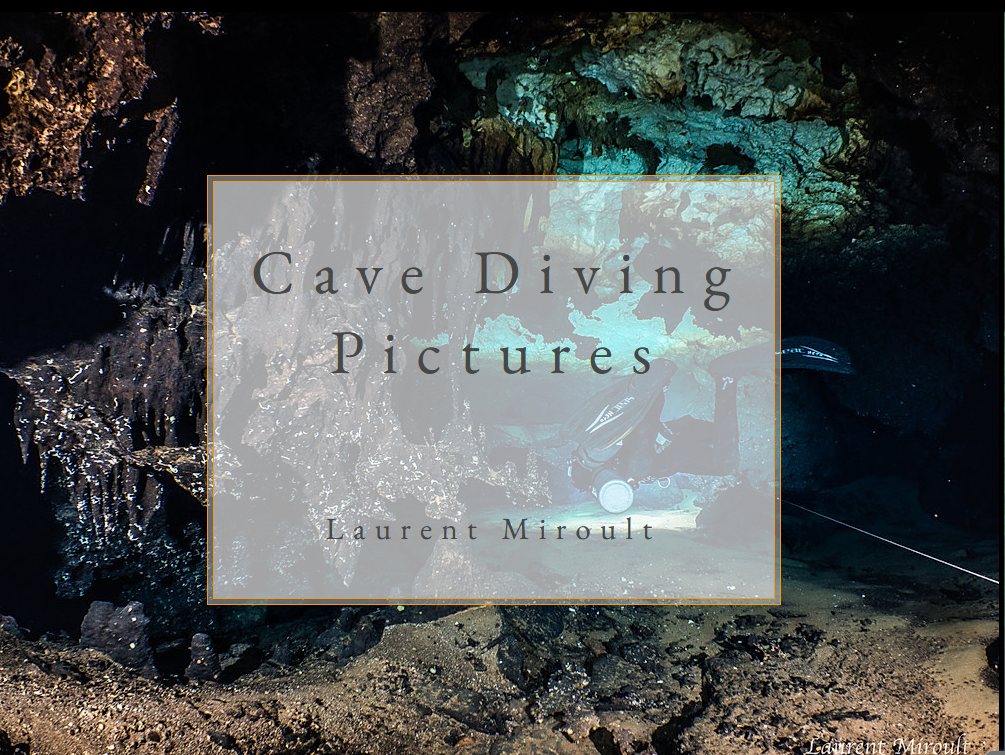 We are fortunate to not only have trained the fantastic underwater photographer, Laurent Miroult, how to cave dive, but we have also become close friends. Laurent and Rob have been diving in caves together all over the world – from the caves in Florida and Georgia in the US, to the caves of Cozumel, as well as France, Germany, Norway, and Portugal. Many of the photographs on this website were taken by Laurent Miroult. Please take a few moments to visit his website and enjoy his art.
---